ENSURING INDUSTRY COMPLIANCE WITH A USER-FRIENDLY, THREE STEP PROCESS.
A fatigued workforce is less productive, more costly and will put themselves or others at risk.
FATIGUE360 is the solution
Are You NR/L2/OHS/003 Compliant?
Book an appointment with us to discuss your requirements.
Fatigue has been recorded as the cause in over 20% of high-risk accidents
The rail sector has suffered an average of 36 worker fatalities per year since 2017 as a result of fatigue, with the costs to the industry estimated to be in the region of £240m per annum.
73% of staff view fatigue as a hazard that is ignored

73%

73%

54% of workers said they feel overburdened at work.

54%

54%

37% of staff work in excess of 50 hours per week.

37%

37%

65% think the industry is not doing enough to prevent such issues.

65%

65%
FATIGUE360 ensures applies a three step process, ensuring industry compliance.
New regulations within the rail and construction industries encourage managers and site staff to ensure a proactive management and mitigation of fatigue.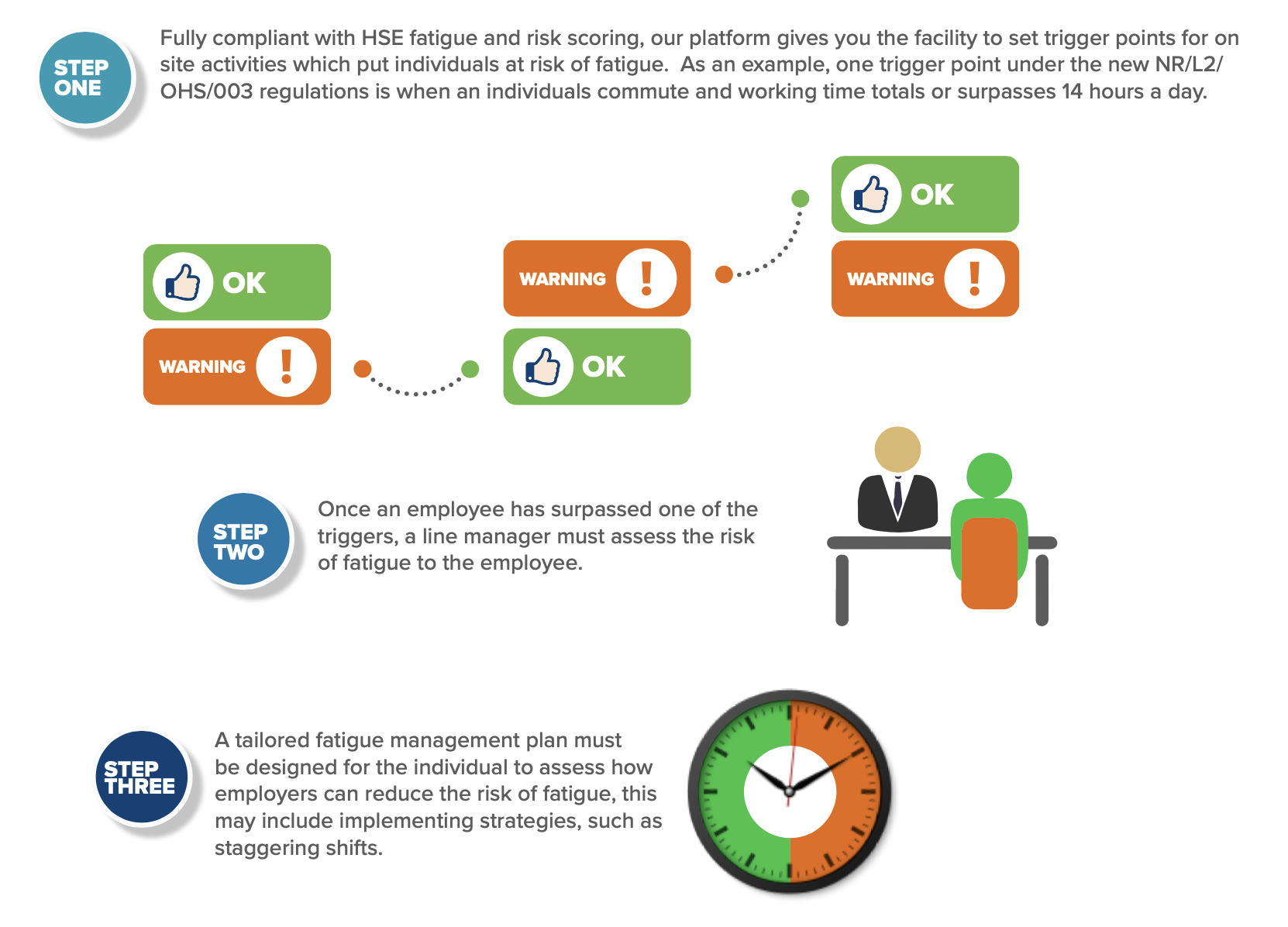 Fatigue360, what will it do for me, how will my business benefit?
FATIGUE360 is fully developed as an end-to-end fatigue risk management and job planning tool.
FATIGUE360 enables planners, schedulers and rosterers to monitor fatigue in their workforce. This unique system allows all business operations to plan and manage not only working hours, but also the travel and rest periods around work shifts.
Our FATIGUE360 platform is very user-friendly, providing a significant return on investment and is proven to reduce incidents while offering increased productivity.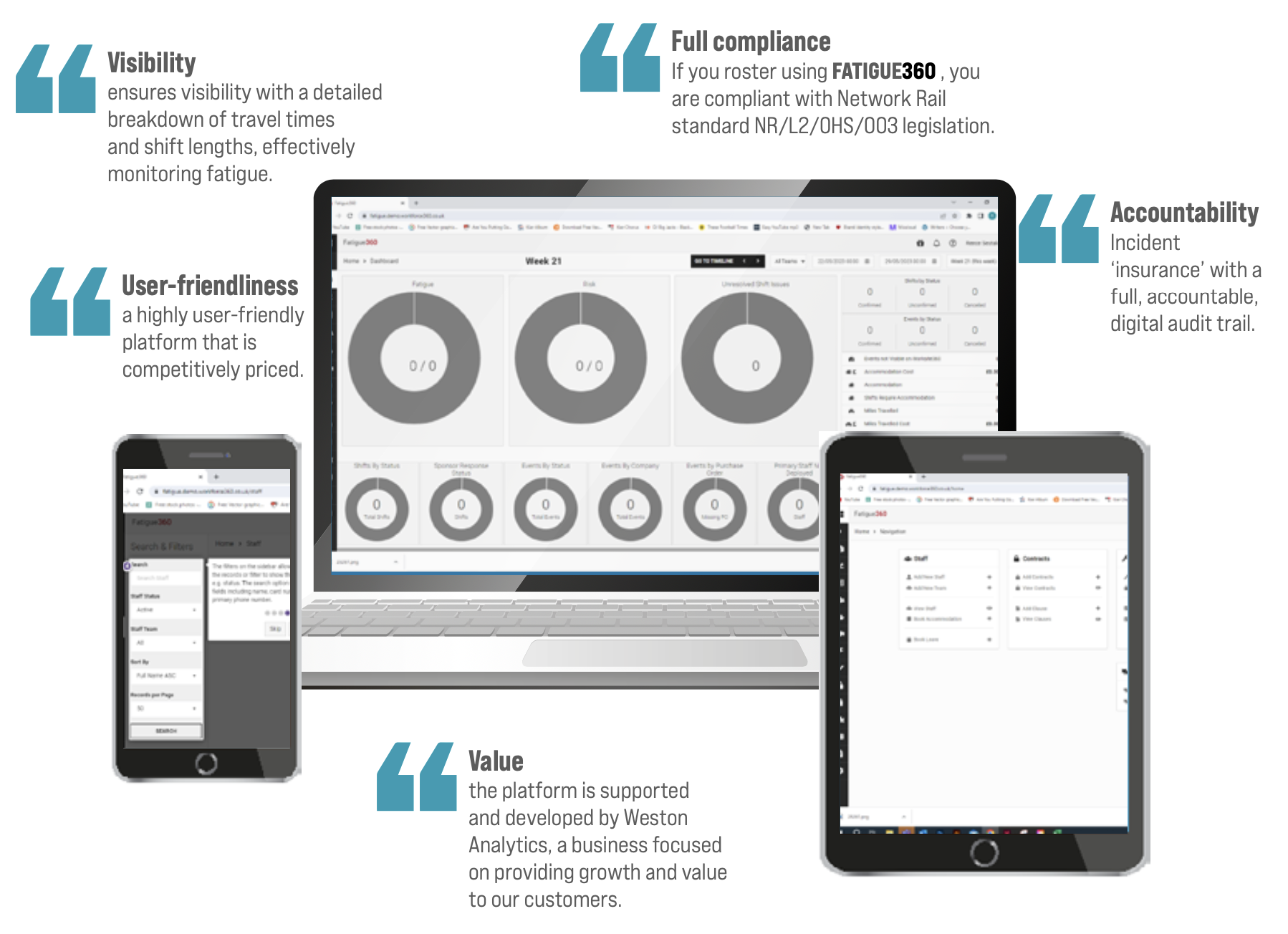 This unique fatigue risk management system allows all rail business operations affected by NR/L2/OHS/003 to plan and manage not only working hours, but also the travel and rest periods around work shifts.
FATIGUE360 allows organisations to actively monitor and manage the fatigue of their workforce through the following:
Scheduling and rostering shifts
Identifying competencies and behaviours within job roles
Bespoke contract management
Real-time shift and worker planning
Reporting and monitoring worker activity
Shift allocation
HSE implementation with fatigue and risk indexes automatically calculated
More information
On 29th October 2022, Network Rail introduced the NR/L2/OHS/003 regulation to prevent the increasing problem of workforce fatigue within rail staff, operations teams, third-party contractors and their supply chains.
Fatigue management along with an effective way to mitigate the risks, has been a major issue for decades. With rail industry compliance looming, it is vitally important to understand how to proactively monitor fatigue and how to implement a fatigue management plan which complies with the updated regulations.
The new fatigue management standards will include all Network Rail and contractor staff working on the railway, it is important to ensure your business complies with the revised standards before October 2022.
Managing rostering and compliance manually can be a major drain on operational resources. We built Fatigue360 from the ground-up to be a comprehensive rostering tool that simultaneously handles staff qualifications and fatigue compliance in the background.
The system is designed to be fully customisable to encompass best practice in fatigue management across multiple industries, whilst significantly reducing the burden of administration on your resourcing team.
FATIGUE
360
has revolutionised the way RSL / Matchtech manage fatigue risk in our people. Risks can be effectively managed, often weeks in advance. It is an an absolute game changer.
Talk to us
Book a 30 minute slot to discuss our services
Download brochure
Download our brochure for more information